Rudoru
Gallery | Quotes | Relationship
Kana
ルドル
Physical Appearance
Monster Species
Kobold
Gender
Female
Hair
Brown
Eye
Brown
Monster Profile
Media Debut
Rudoru is a Kobold that appears in Monster Musume: Everyday Life with Monster Girls Online.
As an official of the liminal exchange program Rudoru helps train the homestay girls and keep them in shape; raising their character level in the process.
Kobold Physiology:

Heightened Senses: As a Kobold, Rudoru's hearing is around four times more sensitive than that of a Human and her sense of smell is at least a thousand times stronger than that of a Human.
Paws: A Kobold's paws are twice the size of human hands. They naturally have razor sharp nails, but most Kobolds smooth them down with a nail file as the nails are of no use.
Tail: Rudoru's tail shows her feelings, but like all Kobolds, she has no conscious control over them.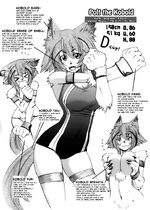 Kobolds are pseudohuman beings that possess canine physical characteristics and traits.
Abundant in German folklore, Kobolds are known for mining rich veins of Cobalt; a mineral used in certain alloys and small electronics. As such, many kobolds have earned themselves a small fortune in processing and selling cobalt on the market.
Possessing coarse fur covering their bodies, a kobold's ears are around 4x more sensitive than a human's while their sense of smell is easily 1000x times more sensitive. Female kobolds are more humanoid than males of the species, the latter which appear more bestial and less anthropomorphic.

Community content is available under
CC-BY-SA
unless otherwise noted.