Ruka
Gallery | Quotes | Relationship
Kana
ルカ
Romaji
Ruka
Voiced by
Aiko Okubo
Physical Appearance
Monster Species
Orc
Gender
Female
Hair
Blonde
Eye
Blue
Monster Profile
Occupation
Exchange Student
Media Debut
Ruka is an Orc that appears in Monster Musume: Everyday Life with Monster Girls Online.
Appearance
Edit
Ruka is an Orc girl who, thanks to dieting and exercise, has become more slimmer and lean than the typically plump Orc girl seen in modern day. She has pointy ears, hooves for feet, and a pigs tail. 
She has long blonde hair with pink ends. She has light green skin, blue eyes, and long pink nails. She wearing a ripped up white t-shirt, a pink sports bra, jean shorts, bracelets, pink sunglasses, and pink upside down heart earrings.  
Personality
Edit
Skills and Traits
Edit
Orc Physiology:

Height: Male orcs stand approximately 5'11" to 6'2", weighing from 180 to 280 lbs. Females average about 6 inches shorter than males. Females also appear more human than their male counterparts. Female orcs are also usually plump in general though others, such as Ruka, can become slimmer.
Skin: Like humans, Orc skin pigmentations vary depending on environmental factors. Noted pigmentations include green, brown and pink.
Sense of Smell: Orcs possess an extraordinary keen sense of smell.
| | |
| --- | --- |
| Personality Type | |
| Level Max | 20 |
| Diet | |
Stats

Lvl.1

Max Lvl.

☆

☆☆

☆☆☆

100% Affection

気力
Willpower

173

241

276

311

346

+

素早さ
Agility

36

50

58

65

72

+

モン娘力(攻)
Attack

130

181

207

234

260

+

モン娘力(守)
Defence

87

121

138

156

173

+
Skills

'

'

Bewitching Guts

Raise Power of Devil Type Girls by 25%
Zoological Classification
Edit
Main article: Orc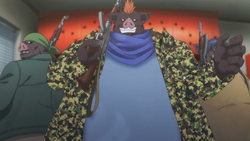 Orcs are a race of brutish, aggressive and generally lustful pseudohumans. Possessing prominent fangs and a snout, their features tend to be "pig-like" in appearance. Taller and thicker than a human by half, they would have about the strength a bear, and have noses capable of accurate olfactory sense to up to a kilometer out.
Considered to be aggressive scavengers and opportunistic carnivores, they possesses human-level intelligence and an even higher level of cunning. Violent by nature, they will fight ferociously if compelled but tend towards more chaotic/destructive behavior such as pillaging, rape and/or cowardice.

Ruka, along with Emeth; have the word "emeth" tattooed on their left breast.
Community content is available under
CC-BY-SA
unless otherwise noted.