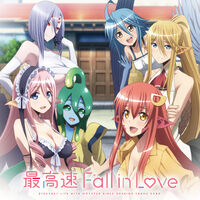 "Saikōsoku Fall in Love" (最高速 Fall in Love, lit. "Highest Speed Fall in Love") is the first opening in the series sung by the voice actresses for Miia, Papi, Centorea, Suu, Mero, and Rachnera.
Renditions of the song also appear in each of the Character Album soundtracks, with the album's featured character singing the entirety of Saikōsoku Fall in Love solo.

Original Lyrics

モンスター モンスター

モンモンモンモンモンスター

モンスター モンスター

モンモンモンモンモンスターズライフ

一つ、人目ばっかり気にしてないで

大胆に、かつ慎重にターゲットを決める

二つ、あいさつはほどほどに

ココロの準備が済んだら、いざ尋常に!

三つ、見つけた隙は即座に狙い定め

撃つべし撃つべし撃つべし撃つべし!

四つ、遠慮は必要ないさ

あとは確実にハートを仕留めるだけで

愛だったら、ほんのちょっとでいい

それより何より、欲望のおもむくまま、

さぁ

ねぇだぁりん

キミがいるから最強じゃない?

ずっと一緒なら最高じゃない?

この先何があったって

キミとならAll OK!

もはやこれは紛れもない

宇宙で一番のLOVEなんじゃない?

答え待ちきれないんだよ、もう

最高速 Fall in Love!

Romaji Lyrics

Group: Monsutā monsutaa mon mon mon mon monsutā Monsutā monsutaa mon mon mon mon monsutāzu life

Group: Hitotsu

Miia: Hitome bakkari ki ni shitenaide daitan ni katsu shinchō ni taagetto o kimeru.

Group: Futatsu

Papi: Aisatsu wa hodohodo ni kokoro no junbi ga sundara iza jinjō ni!

Group: Mittsu

Centorea: Mitsuketa suki wa sokuza ni neraisadame utsubeshi utsubeshi utsubeshi utsubeshi!

Group: Yottsu

Suu: Enryo wa hitsuyou nai sa ato wa kakujitsu ni hāto o shitomeru dake de

Meroune: Ai dattara hon no chotto de ii

Rachnera: Soreyori naniyori yokubō no omomuku mama

Group: Sā!

Miia: Nē darling!

Group: Kimi ga iru kara saikyō janai?

Zutto issho nara saikō janai?

Kono sai nani ga attatte

kimi to nara

Miia: All OK!

Group: Mohaya kore wa magire mo nai

uchū de ichiban no love nanjanai

kotae machikirenainda yo mō

saikōsoku Fall in Love!

English Translation

Group: Monster Monster Mon Mon Mon Mon Monster Monster Monster Mon Mon Mon Mon Monster's life

Group: One

Miia: Stop worrying about whoever's watching,

And pick your target boldly, yet carefully.

Group: Two

Papi: Be careful with how you greet them,

Once you're prepared, proceed fairly!

Group: Three

Centorea: Once you find an opening,

Take aim and FIRE FIRE FIRE FIRE!

Group: Four

Suu: There's no reason to hesitate,

All that's left is to take that heart down cleanly.

Meroune: You only need a bit of love,

Rachnera: More importantly, more than anything you gotta follow your desires.

Group: Come on!

Miia: Hey darling!

Group: If I have you here, could I get any stronger?

If I could always have you here, wouldn't that be the best?

At this moment, no matter what happens,

If I'm with you,

Miia: All O.K.

Group: I can already tell without a doubt,

This has to be the greatest love in the universe!

I can't wait to hear your responses.

I'm already gonna fall in love at max speed!
The final scene in the opening song video is a reference to Son Goku's Spirit Bomb technique from the Dragon Ball franchise.
In each of their solo renditions of the song, Miia, Papi, Centorea, Suu, Meroune and Rachnera refer to "Darling" with the nickname they use to refer to Kimihito in the manga/anime. As such, Miia says "Darling", Papi says "Goshujin", Centorea says "Aruji-dono", Suu says "Master", Meroune says "Danna-sama" and Rachnera says "Honey".
The first few seconds of the opening have the same melody as the Spanish National Anthem.
Community content is available under
CC-BY-SA
unless otherwise noted.