Saki
Gallery | Quotes | Relationship
Kana
サキ
Romaji
Saki
Voiced by
Mizuki Yamaguchi
Physical Appearance
Monster Species
Elder Devil
Gender
Female
Hair
Blonde
Eye
Pink with black sclera
Monster Profile
Occupation
Exchange Student
Media Debut
Saki is a Elder Devil that appears in Monster Musume: Everyday Life with Monster Girls Online.
Appearance
Edit
She has long blonde wavy hair, light tan skin, and magenta eyes. She has black bat like wings on her back and a tail with a heart on the end. She's wearing knee high light magenta boot heels, black fingerless gloves, a black and white ruffled dress, and a ruffled choker with a heart charm.
Personality
Edit
Skills and Traits
Edit
Elder Devil Physiology:

Magic: Devils are among the few species that are said to employ magic, with some skilled in psychic abilities such as hypnosis, which is how Devils typically sow discord, though this form of meddling is in conflict with the restriction of liminals harming humans.
Horns: A devil's horn shape is inherited, as well as the number of said horns. Normally, Devils possess one or two horns, but there have been individuals who have four horns.

However, Devils often get their horns become smaller via surgical means, as the horns can become problematic and interfering with daily life.

Wings: With the wings on her back she can fly.
Devil Ears: A Devil's ears are capable of direction-focused hearing and are employed mainly for the purposes of extremely effective eavesdropping to make their mayhem more precise.
Body: Because a fully-grown Devil's body stops developing at a certain point, it is common to find out Devils are much older than what their bodies look like.
| | |
| --- | --- |
| Personality Type | |
| Level Max | 80 |
| Diet | |
Stats

Lvl.1

Max Lvl.

☆

☆☆

☆☆☆

100% Affection

125% Affection

150% Affection

200% Affection

気力
Willpower

588

1172

1291

1410

1528

+234

+272

+309

+384

素早さ
Agility

102

204

225

246

266

+59

+66

+72

+85

モン娘力(攻)
Attack

294

586

646

705

764

+141

+160

+179

+216

モン娘力(守)
Defence

245

489

538

588

637

+153

+169

+185

+216
Skills

-

-

イイコト教えてあ・げ・る

Reduces damage taken by 40%

その精気吸い取ってあげる

Reduces the opposing team's attack and defence by 25%
Zoological Classification
Edit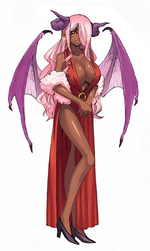 Main article: Devil
Elder Devils (エルダーデビル, Erudā Debiru) are devils that have the bodies of humans in their adulthood. Appearing even older than Greater Devils, they are the voluptuous/highest class of Devil, and boasts the largest average wingspan.
Though it's unclear if it's because of their older apparent age, Elder Devils have the longest lifespans of all Devil species, and it's not uncommon for members to live several centuries. It might have to do with the their extremely long lifespans, but Elder Devils are quite calm and composed, and are beyond playing pranks.

Her name, "Saki", comes from "Succubus".
While she can eat pretty much any food, her favorite is a man's life energy.
Saki is the second monster girl who was released in advance of her scene Osewa (she gets rubbed oil on her back). Here's the link: [1].
Community content is available under
CC-BY-SA
unless otherwise noted.