Sala
Gallery | Quotes | Relationship
Kana
サラ
Romaji
Sara
Physical Appearance
Monster Species
Salamander
Gender
Female
Hair
Red
Eye
Red
Monster Profile
Occupation
Exchange Student
Media Debut
Sala is a Salamander that appears in Monster Musume: Everyday Life with Monster Girls Online.
Sala has long, pink hair, that is slightly messy, as well as pointed ears that poke out. Her arms are covered in scales, and stop slightly before her shoulders. Her legs also have scaled, but they stop, a little after her thighs. She is wearing a red dress, that stops a little above her thigh. She has a tail protruding from her tail bone.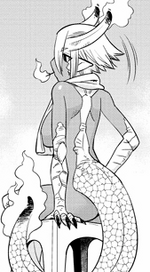 Main article: Lizardfolk
Salamanders are a group of lizard-like liminals who are known to allegedly live near volcanoes, can spew flames, excrete a type of poison to defend against predators, and are completely immune to fire and high temperatures.
Salamanders are considered one of four liminal species that embody the cardinal elements; alongside the Sylph (Air), Undines (Water), and Gnomes (Earth).
Community content is available under
CC-BY-SA
unless otherwise noted.