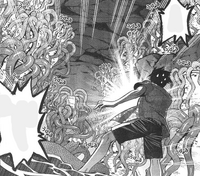 Sea Anemones (磯巾着, Isoginchaku?) are water-dwelling, predatory animals that resemble coral in shape and appearance.
Possessing a column-shaped body, anemones attaché themselves to the sea floor and wait for prey to enter the mass of tentacles that surround their mouth. Once prey is within range, the anemone will strike it with a neurotoxin; paralyzing the prey, before ensnaring them and dragging them into its mouth.
Sea Anemones are named after the

Anemone

flower.
An anemone's toxins are highly toxic to prey species of fish and crustaceans. However, Clownfish are not affected by their host anemone's sting and shelter themselves from predators among its tentacles.
Community content is available under
CC-BY-SA
unless otherwise noted.