Sein
Gallery | Quotes | Relationship
Physical Appearance
Monster Species
Mermaid
Gender
Female
Monster Profile
Occupation
Exchange Student
Media Debut
Sein (???) is a Siren that appears in Monster Musume: Everyday Life with Monster Girls Online.

She has blue fin like ears, two blue fish tails, light skin, and pale blue eyes. She has long pale purple hair, with dark blue ends.
Main article: Mermaid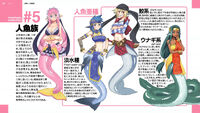 Sirens (セイレーン, Seire-n) are a subspecies of mermaids. They originate from Greek mythology and are widely known for being capable of singing songs so enchanting, that it could lure sailors to their deaths. They are also notable for having two fish tails as apposed to one.
The original Sirens were women with the lower half of a chicken who lived by the sea, luring sailors ships onto the rocks surrounding their home.

Community content is available under
CC-BY-SA
unless otherwise noted.