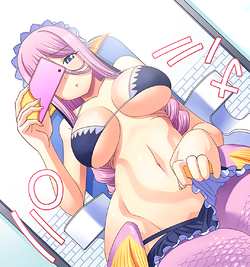 A Selfie is a self-portrait photograph (a photograph of yourself, taken by yourself), typically taken with a smartphone which may be held in the hand or supported by a selfie stick. Selfies are often shared on social networking services such as Facebook, Twitter, Snapchat and Instagram.
Many relationship columnists recommend the exchange of "Nude" or "Risque" Selfies between partners to "spice up the relationship" in a similar manner to when Sexting, Phone Sex and Risque Love Letters were vogue. It is said that the practice is an effective form of flirtation and shows that the sender loves and trusts the recipient enough to give them an image of their naked body, that they are attracted to the recipient enough, and have enough confidence in themselves, to want the recipient to see and enjoy their body. Furthermore, the practice is said to monopolize on the observation that men are visual-based creatures (meaning they respond well to visual stimuli, particularly in regards to sex) and that it is an effective way for a woman to dominate in the relationship.
The term "Selfie" typically refers to self-portrait photos taken personally by the subject, as opposed to those taken by using a self-timer or remote as the photo is no longer being taken by the subject but by the camera's automatic photograph feature.
As a measure of identity protection (particularly in regards to Nude and Risque Selfies) the photographer will sometimes crop out their face from the shot or otherwise cover it so that they can not be easily identified if the photos are received by unintended recipients.
Community content is available under
CC-BY-SA
unless otherwise noted.