Shaia
Gallery | Quotes | Relationship
Physical Appearance
Monster Species
Heavyweight Centaur
Gender
Female
Monster Profile
Occupation
Exchange Student
Media Debut
Shaia is a Heavyweight Centaur that appears in Monster Musume: Everyday Life with Monster Girls Online.
Appearance
Edit
As a Heavyweight Centaur she has a muscular build, she has brown eyes, light skin, and long blonde hair with curly ends. She wears silver and pale blue armour. She also has a flower in her hair.  
Personality
Edit
Skills and Traits
Edit
Heavyweight Centaur Physiology:

Large Breasts: Female Centaurs have large breasts for feeding their young, which are larger than human babies and require more nutrition.
Taste Buds: As herbivores, centaurs generally have twice as many taste buds as omnivores (e.g. humans), while omnivores have over twenty times as many taste buds as carnivores (e.g. Lamia).
Body temperature: Centaurs have a standard body temperature of 38 degrees.
Centaur Ears: A Centaur's ears are capable of reflecting the centaur's mood as they are able to move much in the same way as a horse's ears.
Zoological Classification
Edit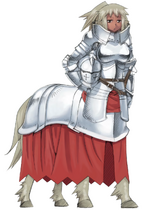 Main article: Centaur
Heavyweight Centaurs (重量種, Jūryō-shu?) are the most muscular of the Centaur subspecies. They are so powerful that they can move around unimpeded even while wearing heavy armor. However, since they rarely have opportunities to wear armor in modern times, they apply their strength to farming and agriculture. They are the largest and most muscular of the centaurs, and their legs are far thicker than those of other centaur subspecies. However, most are gentle, good-natured, yet absent-minded and they are often dim-witted.
Community content is available under
CC-BY-SA
unless otherwise noted.