Shaia
Gallery | Quotes | Relationship
Kana
シャイア
Romaji
Shaia
Voiced by
Shiori Izawa
Physical Appearance
Monster Species
Heavyweight Centaur
Gender
Female
Hair
Blonde
Eye
Hazel
Monster Profile
Occupation
Exchange Student
Media Debut
Game
Monster Musume Online (21/4/2016)
Shaia (シャイア) is a Heavyweight Centaur that appears in Monster Musume: Everyday Life with Monster Girls Online.
She joins the liminal exchange program to become one of many potential homestay boarders for the player to host.
As a Heavyweight Centaur she has a muscular build, she has brown eyes, light skin, a snow white fur coat and long blonde hair with curled ends. She wears silver and pale blue bikini armour. She keeps a flower in her hair.  
Due to her family clan being knights for generations, Shaia has strong pride in being a knight and always wears her armour (only taking it off to bathe and sleep). As a devoted knight, Shaia devotes herself to following the knightly code of Chivalry by being honorable and virtuous and helping those in need of assistance.
She enjoys watching historical dramas and is secretly proud of her golden hair.
Heavyweight Centaur Physiology:

Large Breasts: Female Centaurs have large breasts for feeding their young, which are larger than human babies and require more nutrition.
Taste Buds: As herbivores, centaurs generally have twice as many taste buds as omnivores (e.g. humans), while omnivores have over twenty times as many taste buds as carnivores (e.g. Lamia).
Body temperature: Centaurs have a standard body temperature of 38 degrees.
Centaur Ears: A Centaur's ears are capable of reflecting the centaur's mood as they are able to move much in the same way as a horse's ears.
Increased Strength: While they may not be as fast as other Centaur races, Heavyweight Centaurs possesses the most physical strength, resilience and power over all of the Centaurs.
Sense of Smell: due to their equine biology, Centaurs have a sense of smell that is 1000 times greater than that of a human.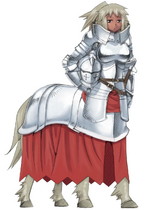 Main article: Centaur
Heavyweight Centaurs (重量種, Jūryō-shu?) are the most muscular of the Centaur subspecies. They are so powerful that they can move around unimpeded even while wearing heavy armor. However, since they rarely have opportunities to wear armor in modern times, they apply their strength to farming and agriculture. They are the largest and most muscular of the centaurs, and their legs are far thicker than those of other centaur subspecies. However, most are gentle, good-natured, yet absent-minded and they are often dim-witted.
Community content is available under
CC-BY-SA
unless otherwise noted.