Sharon
Gallery | Quotes | Relationship
Kana
シャロン
Voiced by
Aya Saito
Physical Appearance
Monster Species
Pan Faun
Gender
Female
Hair
White
Monster Profile
Occupation
Exchange Student
Media Debut
Sharon is a Pan Faun that appears in Monster Musume: Everyday Life with Monster Girls Online.
Appearance
Edit
Personality
Edit
Skills and Traits
Edit
Pan Faun Physiology:

Lactation: Just like Minotaurs, Sharon constantly lactates.
Wool: Due to a Pan's sheep-like nature, Sharon's body is almost completely covered by thick wool. While it needs to be sheared often, as it gets uncomfortable for her if it's too long, it grows back within a week. The wool's softness and quality is superior than that of an ordinary sheep. Though Rachnera claims it is still an inferior clothing material than Spider Silk.
Zoological Classification
Edit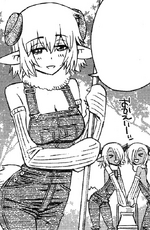 A Pan Faun is a demihuman race possessing characteristics of a sheep, including a pair of curled horns on the head, a small tail, ungulate ears, and hoofed feet, and they are a tad shorter than the average human.
Presumed to be a subspecies of Satyr or Minotaur, wool grows out of every surface of their body, excluding the hooves, hands, fingers, and face. If left unchecked, this wool will grow at enough of a pace to become unbearable to the individual in question without occasional shearing. Pan fauns are, true to their nature, shy and sheepish in general, and see the shearing process as one of extreme embarrassment. As expected of the symbols of virginity (the sheep), they are all protective of their chastity.
Community content is available under
CC-BY-SA
unless otherwise noted.