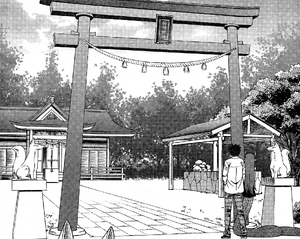 A Shinto Shrine is the principal place of worship for a kami god/spirit in the Shinto religion in Japan.
As shrines are private institutions, they are supported financially by the congregation and donations from visitors. As a further means of income, some shrines host Summer Festivals to attract further visitors.
One such shrine that Kimihito Kurusu and Miia visited while exploring the Onsen Town during their stay had fallen on financial hard times due to lack of visitors. The shrine's houseguest, a Kitsune named Luz Ninetei, attempted to attract attention for the shrine by transforming into various monsters before Kimihito, Miia and Rachnera helped her set up a public performance to more successfully attract new visitors.
Entrances to Shinto shrines are fronted by a distinctive Japanese gate (torii) made of two uprights beams and two crossbars denoting the separation between common space and sacred space.
There are a number of symbolic and real barriers that exist between the normal world and the shrine grounds including: statues of protection, gates, fences, ropes, and other delineations of ordinary to sacred space. Usually there will be only one or sometimes two approaches to the Shrine for the public and all will have the torii over the way.
The shrine's priest specializes in Inari Sushi. The sushi is so good that Luz Ninetei endeavors to keep the shrine open so that he can make more inari sushi for her to eat.
Community content is available under
CC-BY-SA
unless otherwise noted.