Sitri
Gallery | Quotes | Relationship
Kana
シトリー
Romaji
Shitorī
Voiced by
Taniguchi Yumena
Physical Appearance
Monster Species
Lesser Devil
Gender
Female
Hair
Red
Eye
Gold
Monster Profile
Occupation
Exchange Student
Media Debut
Sitri is a Lesser Devil that appears in Monster Musume: Everyday Life with Monster Girls Online.
She has pink hair in twintails, has small black wings and a tail with a heart shaped end. She also has light tan skin. She carries around a lollipop. She also has yellow eyes, small black horns, and small pointy ears.
Lesser Devil Physiology:

Horns: A devil's horn shape is inherited, as well as the number of said horns. Normally, Devils possess one or two horns, but there have been individuals who have four horns.

However, Devils often get their horns become smaller via surgical means, as the horns can become problematic and interfering with daily life.

Magic: Devils are among the few species that are said to employ magic, with some skilled in psychic abilities such as hypnosis, which is how Devils typically sow discord, though this form of meddling is in conflict with the restriction of liminals harming humans.
Devil Ears: A Devil's ears are capable of direction-focused hearing and are employed mainly for the purposes of extremely effective eavesdropping to make their mayhem more precise.
Body: Because a fully-grown Devil's body stops developing at a certain point, it is common to find out Devils are much older than what their bodies look like.
Wings: Although Sitri has wings, she cannot fly with them as the wings are not fully formed and in fact their wings are an obstacle to daily life.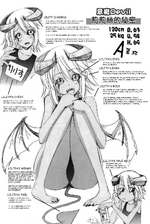 Main article: Devil
Lesser Devils (レッサーデビル, Ressā Debiru?) are devils that have the bodies of humans in their childhood. Lesser Devils have small wings and bodies that are comparable with children, even though Lesser Devils can be fully grown in actuality. Lesser Devils usually use their petite bodies to get away with affording things at children admissions rates.

She was featured in the Event: "All Become Valentine Mood".
Sitri's name is directly lifted from one of the 72 demons within the first and most iconic book of the demonology grimoirie 

The Lesser Key of Solomon

, titled Ars Goetia. Sitri is the 12th listed demon within the Ars Goetia, and is given the rank of Prince.
Community content is available under
CC-BY-SA
unless otherwise noted.