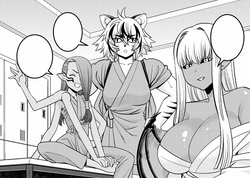 The Sno Ball Hot Spring Resort Attendants are three unnamed liminal girls who work as security attendants at the Sno Ball Hot Spring Resort.
Consisting of a White Tiger, a Tetra Arms and a Succubus, the trio oversee security and health and safety issues within the onsen; tasked with ensuring that no patrons engage in sexual activities while using the onsen's public utilities (hot springs, sauna, pool, etc) and overseeing the expulsion of any troublesome patrons that repeatidly break the rules or are harassing the other guests.
The trio were hired to reprieve the residents of Kurusu House, who were temporarily working at the resort as cleaners, maintenance, hospitality staff and security in Polt's absence.
Community content is available under
CC-BY-SA
unless otherwise noted.