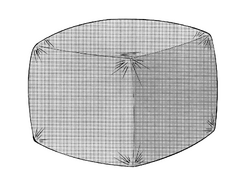 The Sofa of Slothfulness is a luxury sofa bought by Miia. Legend has it that the sofa can turn anybody who reclines within it into a "hopeless case of laziness".
Curious on whether it would work on a monster girl, Miia bought the sofa to test it's "powers" on herself, however, as Miia was considered slothful even before she lay in the sofa, the other girls were not convinced of the sofa's properties and had Meroune Lorelei try it instead; who immediately succumbed to the sofa's prowess.
While Papi also attempted to try the sofa, her sharp talons were perceived as a threat to the sofa's integrity and Meroune promptly tail-slapped her away. While the other girls took an unconscious Papi to bed, Centorea secretly tried to test out the sofa, however, her weight caused the sofa to pop.
Desperate to avoid being found out until she could buy a replacement, Centorea had Suu mimic the appearance of the sofa while she worked to obtain a new one.
While Centorea was gone, Rachnera attempted to try out the "sofa" herself, however, as she reclined upon what she thought was Miia's sofa, Suu enfolded Rachnera within herself and molested her.
Some time later, Lala also attempted to try out the new sofa only to meet a similar fate to Rachnera, who also attempted to lay in the sofa a second time only to once again be molested.
As Rachnera and Lala lay recovering on the ground, Kimihito decided to try out the sofa despite Rachnera's attempted warnings, however, as Suu began attempting to molest him, Kimihito began instinctively molesting her; manipulating and playing with her breasts and nipples until she orgasmed and lost her ability to retain the form of the sofa; revealing herself and the loss of the Sofa of Slothfulness. Centorea is presumably able to replace the sofa as the sofa reappears in Miia's room fully intact in Chapter 27.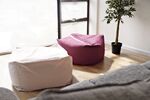 The Sofa of Slothfulness is possibly based on the MUJI Body Fit Cushion; a memory foam bean bag seat that holds and molds to the reclinee's body. A hit in Japan, the cushion was first released to Japanese markets by MUJI in early-to-mid 2014 and was advertised to appeal to those with small living spaces.
In his twitter on 26th June 2014, Okayado states that he saw a "sofa that makes you useless" and he began drawing concept sketches of Suu as a bean bag sofa.
Community content is available under
CC-BY-SA
unless otherwise noted.