Species 2: Everyday Life with a Harpy and Centaur



Previous:

Next:

Debut:
Species 2: Everyday Life with a Harpy and Centaur (第2種 ハーピーとケンタウロスのいる日常, Dai-Ni-shu: Hāpī to Kentaurosu no Iru Nichijō) is the second episode of the Monster Musume: Everyday Life with Monster Girls anime series.
Publicly released on the 14th July, 2015, the episode was directed by Tatsuya Yoshihara and scripted by Kazuyuki Fudeyasu, with creative input from story creator Okayado. The series was animated and produced by the animation studio Lerche.
Kimihito is kidnapped by Papi, who brings him to a park, where he buys her ice cream. Papi then takes a bath in a public fountain, where Miia finds them. With various mishaps, the three work together to save a girl who was stuck in a tree. When a policeman arrives, Kimihito claims to be Papi's host family to keep her from being deported. The officer is skeptical, but Smith arrives with Papi's papers just in time, and tells Kimihito that she was on her way to make the harpy live with him, and Papi (much to her delight) joins the household.
While out grocery shopping, Kimihito collides with Centorea. She becomes convinced that Kimihito is her destined master. Encountering a purse-snatcher, the two pursue him. They eventually catch him, despite various embarrassing accidents. When the thief tries to attack Centorea with her dropped sword, Kimihito leaps in front of her and takes the blow, but survives due to the sword being a fake. Later, Smith explains that Kimihito riding Centorea could be viewed as akin to rape, since only a centaur's chosen master may ride them. Centorea chooses him as her master, resulting in her joining his household.

After credit Beastiary
Edit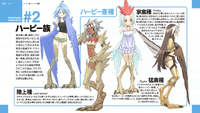 Harpy
Raptor Harpy
Poultry Harpy
Land Animal Harpy
Differences from the Manga
Edit
The episode runs scene-for-scene as it appears in the manga.
The hilt of Centorea's sword is of a different design in the manga than in the anime.
In the manga, the thief finds a collection of 1000 yen notes ($10) in the purse he stole, while in the anime he finds a collection of 10,000 yen notes ($100) within the purse.
Although the thief is shown being restrained by two men in both versions after striking Kimihito, the Bicycle Police Officer is not shown arresting him in the manga version.
Community content is available under
CC-BY-SA
unless otherwise noted.