Species 5: Everyday Life with a Mermaid



Previous:

Next:

Debut:
Species 5: Everyday Life with a Mermaid (第5種 人魚のいる日常, Dai-Go-shu: Ningyo no Iru Nichijō ) is the fifth episode of the Monster Musume: Everyday Life with Monster Girls anime series.
Publicly released on the 4th August, 2015, the episode was directed by Tatsuya Yoshihara and scripted by Kazuyuki Fudeyasu, with creative input from story creator Okayado. The series was animated and produced by the animation studio Lerche.
A construction crew from the Interspecies Exchange Security Squad arrives while the girls are making a plan to hide Suu from Smith. The girls sneak out with Suu, only to realize that they have left Kimihito behind. They are forced to hide when pursued by security forces. All three of the girls somehow get wet, causing them all to be assaulted by a dehydrated Suu. Meanwhile, Kimihito is searching for them when he is hit by a girl in a runaway wheelchair, who introduces herself as Mero. When they arrive at the park, Mero is almost assaulted by Suu, but Kimihito catches her in a plastic bag. Arriving home, they thank Smith for building a room for Suu; she reveals, however, that the room is not for Suu, but for Mero, who is revealed to be a mermaid.
Miia becomes jealous when her accidentally breaking Mero's wheelchair results in Kimihito having to carry the mermaid around the house. She attempts to enlist Centorea and Papi's help in foiling the mermaid. When Kimihito knocks Mero into the pool to save her from a once-again dehydrated Suu, Miia thinks Mero is making a romantic advance and dives in after them, almost drowning when the cold water makes her sluggish. Later, as Miia and Mero take a bath together, the mermaid reveals that she has no intention of attempting to woo Kimihito away from Miia; all mermaids want to experience a tragic love similar to "The Little Mermaid". Centorea and Papi overhear this and believe that the two are plotting against them.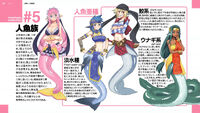 Mermaid
Fresh Water Mermaid
Shark Mermaid
Eel Mermaid
Differences from the Manga
[
edit
|
edit source
]
Community content is available under
CC-BY-SA
unless otherwise noted.