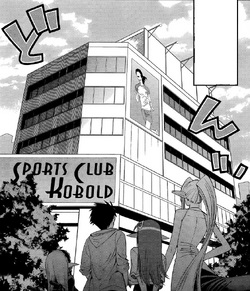 Sports Club Kobold is an athletic center run by the Kobold Polt, who intends to make the club a facility that can cater to all species.
After discovering that they were gaining weight from being cooped up in Kimihito's house all day (due to the interspecies law stating that they could not venture outside without being escorted by their home-stay host), Miia, Centorea, Meroune, and Kimihito are told by Smith to visit the sports club as a way to get some exercise and as well as to act as trial customers for the new business.
As revealed in the OAD, the club's pool room includes a heated (26 degrees), 25-meter swimming pool, changing-room facilities, eye-cleaning showers designed for multiple eye-types, a shallow "kiddy" pool and a leisurely sunroom.
As part of her exercise regime, Polt intended to have Dog Paddle as a teachable stroke for the gym pool.
The Sports Club Kobold emblem is an allusion to the five-ring emblem of the

Olympic Games

.
To accommodate for larger extra-species, one half of the pool is considerably deeper (around 3-meters at the "shallow end") to accommodate for their larger bodies.
After Meroune was nearly poisoned by the chlorine, Polt opted to use Ozone instead of chlorine to maintain the pool.
Sports Club Kobold's sunbathing pool is modelled after That Pool; The most infamous swimming pool in Japanese pornography.
Community content is available under
CC-BY-SA
unless otherwise noted.