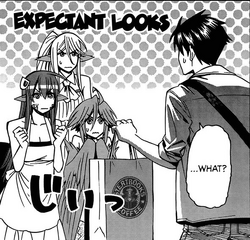 Stertbooks Coffee (known as OKAYADO Coffee in the OVA) is a coffee shop from which Kurusu Kimihito buys coffee from.
The shop has a very large menu and each girl who lives with Kimihito has their own favorite drink which he has memorized, including: Caramel Machiatto (Miia), Sweet Cappuccino (Papi), Soy Latte (Cerea), Mocha Frap (Mero), Large Water (Suu), and Black Coffee (Rachnera)
As most of the shop's drinks contain caffeine, Rachnee, because of her spider biology, quickly becomes drunk when enjoying their products.
Community content is available under
CC-BY-SA
unless otherwise noted.