Suzie
Gallery | Quotes | Relationship
Physical Appearance
Monster Species
Werecat
Gender
Female
Monster Profile
Occupation
Exchange Student
Media Debut
Suzie is a Werecat that appears in Monster Musume: Everyday Life with Monster Girls Online.
Appearance
Edit
As a werecat she has cat like traits such as, cat ears, a tail, and cat paw like hands and feet.
Personality
Edit
Skills and Traits
Edit
| | |
| --- | --- |
| Personality Type | |
| Level Max | 40 |
| Diet | |
Stats

Lvl.1

Max Lvl.

☆

☆☆

☆☆☆

100% Affection

125% Affection

150% Affection

200% Affection

気力
Willpower

294

527

587

647

706

+168

+

+

+

素早さ
Agility

49

88

98

108

118

+20

+

+

+

モン娘力(攻)
Attack

294

527

586

646

705

+145

+

+

+

モン娘力(守)
Defence

137

245

273

301

328

+59

+

+

+
Skills

'

Attacks 3 opponents at 0.7x damage.

'

'
Zoological Classification
Edit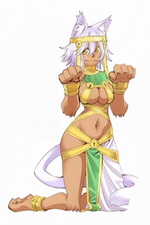 Main article: Werewolf
Werecats are a demihuman species of beings who are spoken in myth of possessing the ability to shapeshift between the form of a human and the form of a cat.
Appearances and sightings of Werecats have been reported around the world, with "feline forms" ranging from domestic cats to overly large lions, panthers and cougars. Werecats are considered the feline equivalent of the Werewolf.
Sometimes treated as gods in certain areas, werecats are flighty and pleasure-seeking, and can be hard to get along with as a result. However, they are strongly susceptible to matatabi (also known as Silvervine; an alternative to catnip that serves as a popular cat treat in Asia) and, if exposed to it, will become docile and extremely affectionate. Many things, including matatabi, may also produce a Flehmen response in werecats.
Suzie's appearance seems to be based on the domesticated

Scottish Fold

feline breed.
Suzie's Health and attack are the same until she reaches level 24, at which point her health is 1 point higher.

They return to the same when she reaches level 36 (503 each) and again switch at lvl 47 with health being higher (569HP, 569Att).
Community content is available under
CC-BY-SA
unless otherwise noted.