Sya Hu
Gallery | Quotes | Relationship
Kana
西虎
Physical Appearance
Monster Species
White Tiger
Gender
Female
Monster Profile
Occupation
Exchange Student
Media Debut
Sya Hu (西虎) is a White Tiger that appears in Monster Musume: Everyday Life with Monster Girls Online.

Sya Hu has a very large ego due to her bloodline and is usually serious, but secretly she has a soft spot for cute things, and she spends her free time making plushies.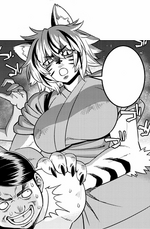 White Tigers are pseudohuman liminal species with the physical features of a Bengal Tiger.
Considered to be one of the four mythical animal tribes of China (alongside the Azure Dragons, the Vermillion Birds, and the Black Turtles), all four of which are kept in balance by the Huang Long race, the White Tigers are extremely secretive; said only to appear when the Emperor ruled with absolute virtue and/or if there was peace throughout the world. They represent the element of metal, the western provinces of China and the season of autumn.
Community content is available under
CC-BY-SA
unless otherwise noted.