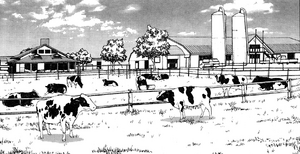 The Ranch is located near the Onsen Town where Kimihito Kurusu and his house guests were residing within until his house was repaired.
A participant in the interspecies exchange program, Kimihito, Centorea Shianus and Papi chanced upon the farm while exploring the countryside and spent the day helping out the liminal farmhands living there; the Minotaur Cathyl, the Pan Merino, and the Barometz twins Ton and Cott, while the farm's owner tended to business off the farm.
After word got around of the nutritional value of Minotaur and Pan milk, Merino and Cathyl began receiving requests by new mothers to sell their milk to them to feed their babies, to which the two girls complied, milking themselves and selling their milk separate from the ranch's typical produce despite the sale of extra species milk being illegal. When Miia came to the ranch looking for a part-time job, the girls also offered her the opportunity to sell her milk but she was unable to due to Lamia's not being able to lactate without pregnancy.
The Sno Ball Hot Spring Resort serves buffet-style meals, they use only locally sourced ingredients from places such as The Ranch.
Community content is available under
CC-BY-SA
unless otherwise noted.