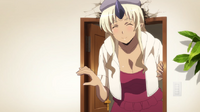 This page deals with Tio's interactions with the other characters.
Right off the bat, Tionishia is extremely friendly towards Kurusu. During their date to lure out 'D', she gains an infatuation with him after he offers to modify a dress for her.  She even seems to enjoy holding him against her breasts.
Kurusu Household Guests
Edit
Tionishia took the surveillance duty on Kimihito's date with Miia and Mero to find out the culprit. The ogre became wary when the lamia went with another demi-human who was half-dragon.
Monster Community
Edit
Community content is available under
CC-BY-SA
unless otherwise noted.