The Toranoana Bonus Manga is a series of limited edition Monster Musume comics created by Okayado and distributed by the Comic Toranoana manga and anime merchandising franchise as part of a bonus for purchasing Monster Musume volumes at their stores.
Sofa of Slothfulness Conclusion (Volume 6)Edit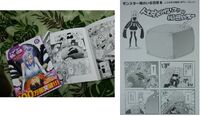 Some time later, following the first two incidents involving the Sofa of Slothfulness, Lala also attempts to try out the new sofa only to meet a similar fate to Rachnera, who also attempts to lay in the sofa a second time only to once again be molested.
As Rachnera and Lala lay recovering on the ground, Kimihito decides to try out the sofa despite Rachnera's attempted warnings, however, as Suu began attempting to molest him, Kimihito began instinctively molesting her; manipulating and playing with her breasts and nipples until she orgasmed and lost her ability to retain the form of the sofa; revealing herself and the loss of the Sofa of Slothfulness.
Where is Darling's Parents? (Volume 7)Edit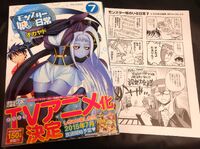 After their mothers had visited (Chapters 26 - 29), the girls question where Kimihito's parents are. When Kimihito reveals that his parents are working overseas, Miia denies that happenstance due it being too often used in Japanese media and the residents of the Kurusu household try to deduce why Kimihito's parents are not living with him.
After Miia suggests that Kimihito's parents are divorced, Meroune concludes that neither parent wanted to be reminded of such sad memories and since Kimihito was part of those memories, he was left behind in the old family house.
Papi suggests that Kimihito's mother was a harpy and that, after his mother's wanderlust caused her to leave as all harpies do, his father was traveling the world in search of her.
Meroune then goes into one of her tragic fantasies, fantasizing that Kimihito's parents were dead and that he had inherited the house from them. She furthermore continues the fantasy by stating that a mermaid girl entered his lonely life and they lived happily together from then onward.
Rachnera extrapolates on Meroune's theory, suggesting that Kimihito had indeed inherited the house from his dead parents but that he was one responsible for their deaths.
Meroune suggests that "working overseas" might be acceptable if Kimihito's parents were working as interspecies exchange coordinators as that would also explain why Miia had suddenly come to be a homestayer without Kimihito joining the exchange program.
As the girls gush over the idea that perhaps they were all chosen by Kimihito's parents to stay with him in their absence, Kimihito muses the reality to himself that his dad was just a businessman and that his mom just liked to go with him when he traveled for business.
Community content is available under
CC-BY-SA
unless otherwise noted.