Tsen
Gallery | Quotes | Relationship
Kana
ツェン
Romaji
Tsen
Voiced by
Mia Naruse
Physical Appearance
Monster Species
Lightweight Centaur
Gender
Female
Hair
Pink
Eye
Green
Monster Profile
Occupation
Exchange Student
Media Debut
Tsen is a Lightweight Centaur that appears in Monster Musume: Everyday Life with Monster Girls Online.
Lightweight Centaur Physiology:

Agility: Like most centaurs she is very fast, but as a lightweight centaur are also racing horses, making her faster than the common centaur.
Herbivorous: Centaurs are herbivores.
Normothermia: Like horses, she has higher body temperature than Humans. Her's is 38°C (100.4°F) to be precise. This is the same as the average horse.
Ear Movement: Centaur's ears are capable of reflecting the centaur's mood as they are able to move much in the same way as a horse's ears.
Sense of Smell: Due to their equine biology, Centaurs have a sense of smell that is 1000 times greater than that of a human.
| | |
| --- | --- |
| Personality Type | |
| Level Max | 30 |
| Diet | |
Stats

Lvl.1

Max Lvl.

☆

☆☆

☆☆☆

100% Affection

125% Affection

150% Affection

200% Affection

気力
Willpower

262

417

472

523

576

+84

+124

+163

+242

素早さ
Agility

39

62

68

77

84

+11

+17

+22

+33

モン娘力(攻)
Attack

255

406

454

510

562

+73

+110

+147

+220

モン娘力(守)
Defence

131

209

239

262

288

+29

+48

+66

+102
Skills

ロングトーク

相手モン娘1人に2回連続で0.7倍のショックを与えるよ!

'

'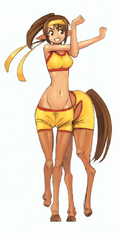 Main article: Centaur
Lightweight Centaurs (軽量種, Keiryō-shu), known also as Racing Centaurs, are a Centaur subspecies that excels at running. They are smaller than standard centaurs, with slimmer and tighter bodies. Though they approach their rank and records with a stoic attitude and love running, they are easily injured, and they devote much of their attention to studying health care. They can be rather moody, but this can be attributed to timidity or physical and mental innocence. Since their bodies are not as large, neither are their breasts.
She can be considered a "Bokukko" (a female character who uses male pronouns) as she uses the male pronoun "boku" instead of a female one like "atashi" or the gender neutral "watashi".
Even though lightweight centaurs are described as being very fast, and sometimes called racing centaurs, and yet, Tsen has one of the lowest agility stats in the game
Community content is available under
CC-BY-SA
unless otherwise noted.