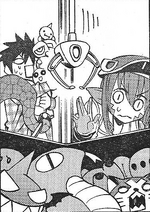 A UFO Catcher (also known as a Claw Crane (クレーンゲーム, Kurēn Gēmu?) and many other nicknames) is a type of arcade game where the player manipulates a claw to snatch a prize of their choosing from a group of such prizes.
The game involves the user/operator controlling a small crane in order to grab one of several prizes on display within the machine (plush toys, jewelry, capsuled toys, hats, balls, dolls, shirts, candy and electronics).
The player inserts coins into the machine, which then allows the player to manipulate a joystick that controls the claw for a variable time (usually 15 to 30 seconds). At the end of the play time (or earlier if the player presses a trigger button on the joystick), the claw descends and makes an attempt to grip a prize. After making the gripping attempt, the claw then moves over an opening in the corner of the case and releases its contents (if any).
The success rate of winning a prize is dependent on several factors, including operator settings, player skill, type of machine, and prizes available (size, density, and distribution). A prize may be lost due to player inexperience, player error in manipulating the claw, the weakness of the claw, or the specific crane configuration. Many modern cranes use a computer to determine an expected payout percentage based on the operator's settings.
The ability of the owner to set features such as a payout percentage raises the question of whether these machines should be considered gambling devices in a legal sense, alongside slot machines.
In East Asia, notably Japan, South Korea, and Taiwan, UFO Catchers are extremely popular. There are entire video arcades dedicated to hosting these machines.
Community content is available under
CC-BY-SA
unless otherwise noted.