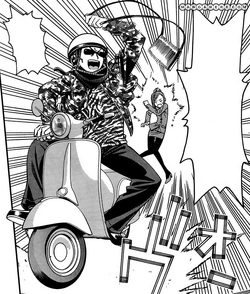 Vespa is an Italian brand of scooter manufactured by Piaggio.
Originally a single motor scooter manufactured in 1946 to address traveling on the war-torn roads of post-World War II Italy, the Vespa model extended into a full line of scooters and had become its own brand by the 1970's.

The unnamed Purse Thief owned a Vespa, which he used to escape after snatching purses from unsuspecting women. After one such theft, he was pursued by Centorea and Kimihito. During the chase Kimhito accidentally ripped Centorea's shirt, exposing her breasts, and the sight caused the thief to crash his Vespa.
"Vespa" means "wasp" in Italian.
The Purse Thief encountered by Centorea and Kimihito claim that his Vespa is a "Model 36", however, no such model exists by that name. It is likely that a fictional model was used to reduce the possibility of legal/copyright claims by the real life company. Visually, his Vespa resembles the 1963, VBB 150 model.
Community content is available under
CC-BY-SA
unless otherwise noted.