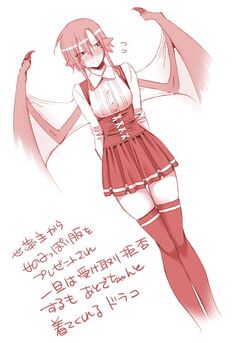 The Virgin Killer Outfit (or Clothes That Kill Virgins (童貞を殺す服; Doutei o Korosu Fuku)) is a term used to refer to certain high-waist skirt fashions that are believed to intensely arouse or otherwise fascinate "virgin" male otaku.
The term was first coined by amateur illustrator Keyholder (キーホルダー) on Twitter in July 5th, 2015, to describe a trend he had noticed in the fashions worn by various "prowling" women at drinking parties. In the description he noted that his favourite styles were the ones that were similar to the blouse and long high-waist skirt styles as shown in the Japanese clothing label NO.S PROJECT.
Since it's inception, the concept has spread across illustrator communities Pixiv, Twitter and Nico Nico Seiga, with other artists also noting that other "attractively pure" styles such as the uniforms used by the food chains Anna Miller's and Kobe-ya Kitchen, the costumes worn by various cosplayers and popular outfits seen in moe illustrations also follow the "blouse and high-waist skirt" style of the Virgin Killer Outfit.
Community content is available under
CC-BY-SA
unless otherwise noted.