Were
Gallery | Quotes | Relationship
Kana
ウェア
Romaji
Wea
Voiced by
Yui Toita
Physical Appearance
Monster Species
Werecat
Gender
Female
Hair
Brown
Eye
Green
Monster Profile
Occupation
Exchange Student
Media Debut
Were is a Werecat that appears in Monster Musume: Everyday Life with Monster Girls Online.
As a werecat she has cat ears, a tail, and paw like hands and feet, with a bit of fur on her legs and arms.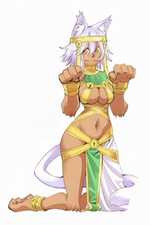 Main article: Werewolf
Werecats are a demihuman species of beings who are spoken in myth of possessing the ability to shapeshift between the form of a human and the form of a cat.
Appearances and sightings of Werecats have been reported around the world, with "feline forms" ranging from domestic cats to overly large lions, panthers and cougars. Werecats are considered the feline equivalent of the Werewolf.
Sometimes treated as gods in certain areas, werecats are flighty and pleasure-seeking, and can be hard to get along with as a result. However, they are strongly susceptible to matatabi (also known as Silvervine; an alternative to catnip that serves as a popular cat treat in Asia) and, if exposed to it, will become docile and extremely affectionate. Many things, including matatabi, may also produce a Flehmen response in werecats.
With a natural diet of mostly meat, Werecats are quite good at hunting.
Community content is available under
CC-BY-SA
unless otherwise noted.