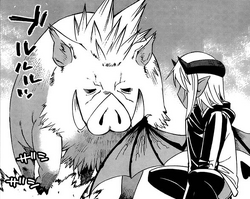 The Japanese Wild Boar (猪, Inoshishi?) can be found all over the Kyushu, Shikoku, and Honshu islands, with an additional subspecies existing in the Ryukyu Islands. A common trope, or event, in Japanese media is that of a wild boar going on a rampage through a human settlement.
While historically, boars usually kept to the mountains and forests, boar/human attacks have increased over the years due to human industrialization growing and encroaching on boar territory while boar territory is also expanding as the boar population grows due to no natural predators (the last wolves in Japan went extinct in 1905 due to over hunting).
A boar attacking humans in "humanized areas" is actually a common occurrence in the real world, and is usually the result of a mother boar protecting its young from a viable threat or during rutting season.
Community content is available under
CC-BY-SA
unless otherwise noted.