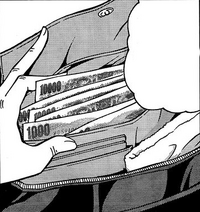 The Japanese Yen (円, 圓, ¥) is the official currency of Japan.
After obtaining minting machinery from Hong Kong, the Japanese Meiji government decided to adopt a silver dollar coinage under the name of "yen" on May 10, 1871. The yen replaced Tokugawa coinage, a complex monetary system of the Edo period based on the Mon.
Yen as currency is made up of coins (¥1, ¥5, ¥10, ¥50, ¥100, ¥500) and banknotes (¥1000, ¥2000, ¥5000, ¥10,000).
The 1 yen coin is made out of 100% aluminum and can float on water if placed correctly.
The Yen is the third most traded currency in the foreign exchange market after the United States Dollar and the Euro.
Many Vending Machines in Japan no longer accept ¥500 coins due to counterfeiting issues. The exact reason is due to the 500 yen coin having a similar weight and the same diameter and metal alloy as the 500 South Korean won coin.
Community content is available under
CC-BY-SA
unless otherwise noted.