Youko
Gallery | Quotes | Relationship
Kana
妖子
Romaji
Youko
Voiced by
Yuu Asakawa
Physical Appearance
Monster Species
Kyubi no Kitsune
Gender
Female
Hair
White
Eye
Gold
Monster Profile
Occupation
Exchange Student
Media Debut
Youko is a Kyuubi no Kitsune (Nine tailed fox) that appears in Monster Musume: Everyday Life with Monster Girls Online.
Appearance
Edit
Personality
Edit
She likes to smoke.

Skills and Traits
Edit
Kyuubi no Kitsune Physiology:
Zoological Classification
Edit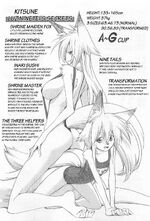 Main article: Yokai
Kyubi no Kitsune (lit. Nine-tailed Foxes) are a psudeohuman race that appear in Japanese folklore as intelligent beings that possess magical abilities to shape shift. While some folktales speak of kitsune of wildly different moralities employing this ability to trick others, other stories portray them as faithful guardians, friends, lovers, and wives. It is unknown if male Kitsune exist (as Kitsune can use both genders in their shapeshifting abilities) or if they are a single-gendered race.
It is said that the more tails a kitsune has (they may have as many as nine) the older, wiser, and more powerful they are. Because of their potential power and influence, some people make offerings to them as deities.

A Kyubi no Kitsune, or Nine Tailed Fox, is said to be the final form of the Kitsune. In most myths a Kitsune's mystical power is based on how many tails they have, making the Kyubi no Kitsune the strongest variation.
Youko's name is one kanji change away from being "Demon Fox" (

妖狐

Yōko

?

).
There is the saying that "the Kitsune has seven disguises, the Bake-danuki has eight". The Bake-danuki is thus superior to the Kitsune in its disguises, but unlike the Kitsune, which changes its form for the sake of tempting people, Bake-danuki do so to fool people and make them seem stupid. There is also the theory that they simply like to change their form.
Youko can be obtained for free as a quest reward after completing 100 Shopping trips.
Kyubi no Kitsune tend to be intelligent but playful, with a pronounced love of trickery and mischief. Many are also very fond of booze. That said, as wild as they can be whilst still free to do as they please, they are usually very loving and devoted brides.
Calling a woman "foxy" (in reference to the Kyubi no Kitsune) is a huge sexual compliment in Japan.
Community content is available under
CC-BY-SA
unless otherwise noted.