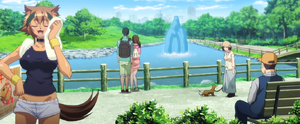 Yoyogi Park is one of the largest parks in Tokyo, located in the Shibuya district of the city.
Originally an army parade ground during and before World War II, from September 1945, after the war, the area was refitted to house the "Washington Heights" military barracks for U.S. officers during the Allied occupation.
After the barracks were decommissioned, the area was used for the 1964 Tokyo Olympics; housing the main Athletes Village and being the site the Yoyogi National Gymnasium.
In 1967, most of the area north of the gymnasium and south of the Meiji Shrine was converted into "Yoyogi Park".
The park remains a popular Tokyo destination. On Sundays, it is especially busy when it is used as a gathering place for rock music fans. In spring, thousands of people visit the park to enjoy the cherry blossom during the Hanami Festival.
Yoyogi Park stands on the site from where the first successful powered aircraft flight in Japan took place by Captain Yoshitoshi Tokugawa on 19 December 1910.
Community content is available under
CC-BY-SA
unless otherwise noted.