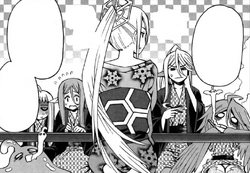 A Yukata (浴衣) is a casual Japanese summer dress worn by both genders.
Similar in design to the Kimono, the yukata are less formal, possessing less clothing layers and are commonly made of cotton (as opposed to kimono; which are made of silk).
In wearing a yukata, like the kimono, the left side of the yukata robe is wrapped over the right side, if the yukata is too long the robe is folded up until the hem is above the ankle and secured with an obi sash. In less public circumstances, the yukata may be simply tied with a belt as is commonly seen in bathing designs. Yukata are often worn with wooden sandals called geta.
The yukata is a common public sight in Japan at during fireworks displays, bon-odori festivals, and other summer events, the yukata is also frequently worn after bathing at traditional Japanese inns and hot springs. The yukata also sees use as a form of sleeping wear.
Yukata literally means "bath clothes".
They say when you wear a Yukata, it is best not to wear underwear because the lines would show. Traditionally, a woman would wear a Yumoji; the undergarment of choice for women during the Meiji Period, a Yumoji is a type of skirt that simply wraps around the waist.
Community content is available under
CC-BY-SA
unless otherwise noted.