Yuki
Gallery | Quotes | Relationship
Kana
ユキ
Romaji
Yuki
Voiced by
Aiko Okubo
Physical Appearance
Monster Species
Yuki-onna
Gender
Female
Hair
White
Eye
Purple
Monster Profile
Occupation
Exchange Student
Media Debut
Yuki is a Yuki-onna that appears in Monster Musume: Everyday Life with Monster Girls Online.
Yuki, as befitting for her name and race, is a tall, slender, elegant, and busty woman with pale blue skin and long, pale hair reaching her knees. Her body temperature runs around 0°C.
She wears a kimono adorned with snowflakes.
Just like any Yuki-onna, she has a cold personality.

Yuki-onna Physiology:

Cryokinesis: Yuki is able to drastically lower the temperature of her surroundings by choice, though she can lose control of this power if she gets emotional or if she doesn't pay attention of her surroundings. When this happens she can instantly freeze a bath filled with hot water.
Low Body Temperature: As a Yuki-Onna, Yuki's body temperature is much lower than that of a human. It is low enough to freeze the ground beneath her feet. Due to this, Yukio cannot handle higher temperatures that are considered comfortable for humans and most extra-species.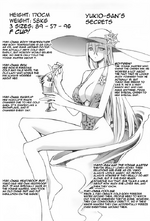 Main article: Yokai
A Yuki-onna (雪女) is a psudeohuman that appears in Japanese folklore as a snow spirit of inhuman beauty that appears before travelers trapped in snowstorms with the purpose of killing them.
While the Yuki-onna race is not inherently malevolent, their stoic demeanor and their natural environment being hazardous to humans, may have given rise to myths that they intentionally cause deaths.
While possessing elemental control over ice and snow, Yuki-onna can not live in high temperate environments without assistance.

Her name is Japanese for "Snow" (

雪

Yuki

?

), as well as referencing her species.
Community content is available under
CC-BY-SA
unless otherwise noted.